Permanent Residence in Azerbaijan with ACON Consulting
Many individuals are seeking opportunities for a better life. However, how can you secure your place in this vibrant nation? Look no further, for we, at ACON Consulting, the premier immigration lawyers in Azerbaijan, are your guiding light in the journey to obtain a Permanent Residence Permit (PRP).
Unlocking the Gateway to Your Future
Securing a Permanent Residence Permit in Azerbaijan is essential for a long-term stay. Furthermore, it grants you the exclusive privilege of residing and working in this dynamic country without the hassle of continuous visa renewals.It offers numerous advantages for those seeking a long-lasting presence in Azerbaijan.
Your Trusted Partner – ACON Consulting
With years of experience as an immigration lawyers in Azerbaijan, ACON Consulting is your professional companion in obtaining a PRP. Our dedicated team of attorneys specializes in providing top-notch attorney services in Azerbaijan, ensuring a smooth, efficient process for our clients.
The Road to Permanent residence in Azerbaijan
The process of securing a Permanent Residence Permit in Azerbaijan is a meticulous one, but with ACON Consulting by your side, it becomes a straightforward journey. Our expertise in immigration law ensures that you are guided through each step with precision and care.
1. Eligibility Assessment: The initial stage involves determining your eligibility for a PRP. We meticulously review your circumstances, ensuring that your application is built on a solid foundation.
2. Documentation: ACON Consulting will assist you in compiling all the necessary documents for your application. We ensure that no vital detail is overlooked and that all paperwork is in order.
3. Application Submission: Our experienced attorneys will professionally submit your application to the relevant authorities. Our reputation as a top law firm in Azerbaijan ensures that your application is given the attention it deserves.
4. Follow-up and Updates: Throughout the application process, our team will diligently follow up with authorities to ensure your application's smooth progression. We provide regular updates to keep you informed.
5. Approval and PRP Issuance: Upon successful approval, you will be granted a Permanent Residence Permit in Azerbaijan. This is a moment of triumph, and we at ACON Consulting share in your joy.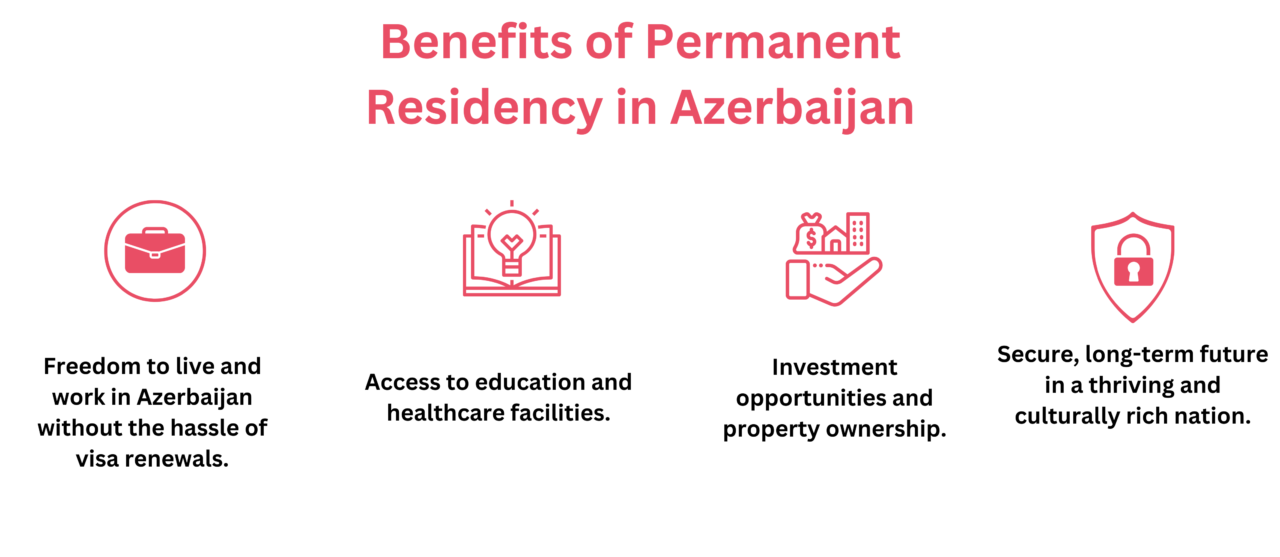 Conclusion
With ACON Consulting, the path to obtaining a Permanent Residence Permit in Azerbaijan becomes a seamless experience. Our reputation as a leading law firm in Azerbaijan, specializing in immigration law, guarantees you the finest attorney services in the country. Say goodbye to the uncertainties of temporary visas and embrace the permanence of a PRP. Azerbaijan is waiting, and ACON Consulting is here to make your dreams a reality. Contact us today to embark on your journey to a new beginning.